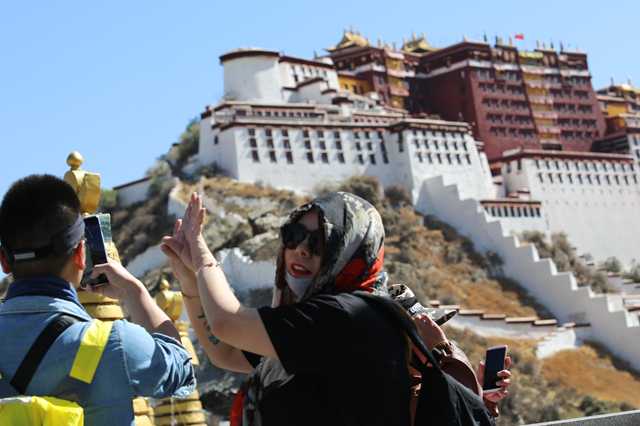 Tourists pose for a photo in front of the Potala Palace on May 9. [Photo by Palden Nyima/China Daily]
Lhasa, capital of the Tibet autonomous region, received more than 1.07 million tourists over the first quarter of the year, an increase of 17 percent year-on-year, as revealed Tuesday by the city's tourism development bureau.
In the first three months of the year, the city's travel revenue hit 1.4 billion yuan ($ 217 million), up 22.4 percent year-on-year, the bureau reported.


Tourists shop in a store in Lhasa on May 9. [Photo by Palden Nyima/China Daily]
According the bureau, the city has plans to accelerate the tourism industry in some of the city's northern areas, including the counties of Nyemo, Maldrogungkar, Damshung, Lhundrub, and the districts of Doilungdechen and Dagze.
The tourism spots in these areas include the famous Namtso Lake, the Drak Yerpa Monastery, the Junpa Fishing Village, the Tonba village famous for Tibetan incense, the Radreng Monastery, and the famous Zichen Latso Lake, which locals believe to be the residence of the Treasure God.